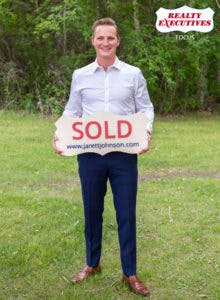 Choosing a real estate agent is not easy. There are thousands of agents practicing in the market. It is important to hire someone with experience, expertise, integrity, honesty, and enthusiasm. Since 2006 Jarett Johnson with Realty Executives Focus has excelled in all of those aspects. For many years Jarett has been a top agent in helping sellers and buyers navigate the complex world of real estate; pre owned, investment, rentals and new home sales. His expertise in first time home buyers, investors, mature sellers and buyers, rural acreage customers and clients has propelled him to the top of his class. Fort Saskatchewan, Sherwood Park, and Edmonton surrounding areas.
Proficient in listing homes for sale and dealing with investment portfolios makes him the best choice for anyone looking to make a move in real estate. Giving first time home buyers undivided attention is crucial to the future of his real estate business. Jarett owns the brokerage full service real estate office of Realty Executives Focus while managing all his clients, agents, and his property management division.
Jarett is family and friend oriented. Proud dog owner. Sport enthusiast. Marathon runner. University educated with a Bachelors of Commerce Degree major in Marketing and International Business. Most importantly loves his job and helping people buy, sell, invest, and rent homes in Fort Saskatchewan, Sherwood Park, Edmonton, and surrounding areas.
Meet My Team! An additional bonus when hiring Jarett Johnson is that you get 6 agents for the price of one. With my dedicated services we never miss a call, never miss an email, never miss a sale. This is important to ensure you are selling your home for the most amount of money and as fast as possible.